With a digital landscape that sees constant change and short evolutions, Amy Davies and Raymond Reid decided to extend their passion for media from their day jobs to establish InsideDigital, a forum dedicated to helping brand marketers navigate today's digital landscape.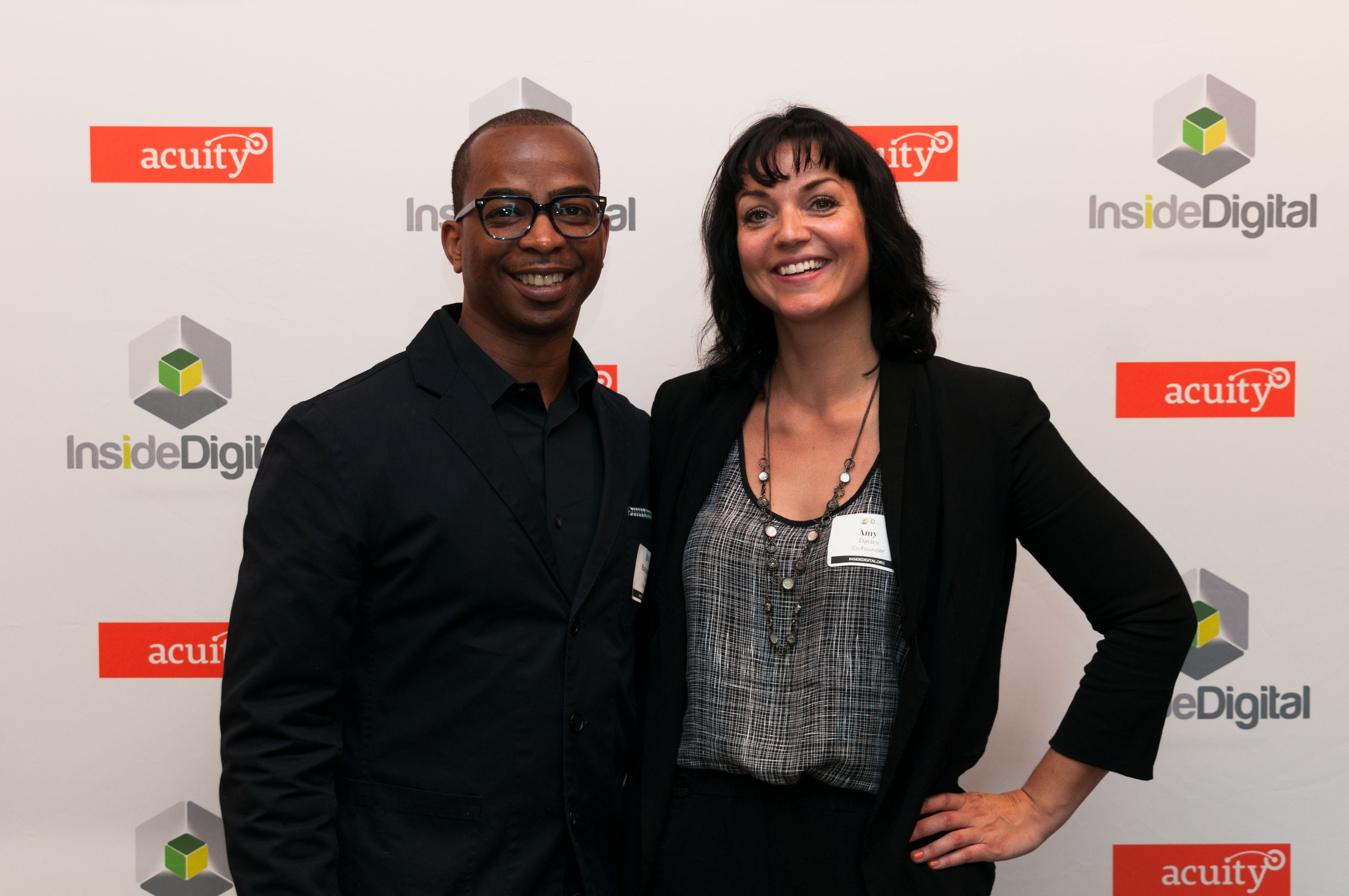 Amy, what do you do as your full-time job? And Raymond?
Amy: I'm the associate director at the Canadian Film Centre.
Ray: And I work as the President of AdScience, a division of AcuityAds.

So how did two people in different workplaces come together to start Inside Digital? What do you get out of doing this?
Amy: It stemmed from a conversation that Ray and I had two years ago. We were both attending the Banff World Media Festival and talked to a number of people, including marketers. The more conversations we had, the more we realized that they needed a forum that was completely unbiased to help them advance their knowledge when it came to digital media channels and technologies.
We realized that if no one else was providing this type of outlet, then we would be the ones to start it. That's how and why InsideDigital was born: as a way to help brand marketers navigate the new digital medium. My background was in facilitation through events, community engagement and technology platforms. Ray at the time was the head of Starcom MediaVest. Together we made the perfect combination.
How do you find presenters for your Brand Series?
Amy: Given my background, that comes from experience. You decide based on their expertise, how their expertise will benefit the audience, and how good they are as a presenter. Nobody wants to sit there with someone who will drone on for hours.
Ray: It's finding brands and speakers who are as passionate about where this space is going. Them being able to share their perspective with a captive audience was really key for us. Brands want to talk to each other in an environment in which they feel safe and comfortable. That's what helped grow this series.

How has Inside Digital impacted your performance at work?
Amy: Just as we're giving back and bringing in expertise to the marketers, I get to learn from the community. As you can imagine, it only enhances my everyday work that I do at every level. It's been an absolute added value.
Ray: For me, it's the opportunity to hear directly from brand marketers. We usually think we know what their challenges and opportunities are, but we actually don't. Hearing from them directly has benefited me in being able to take that insight to what I do on a daily basis whether it is running an ad agency or technology company.
What are some lessons you learned from starting this venture?
Amy: You have to be prepared to work. You have to be passionate about your project. If you're not passionate about it, then you won't be able to put in the extra eight hours on top of your eight hour day in order to pursue your suitless pursuit.
Ray: In terms of working together and partnership, you need strong communication. It's important to align on long term objectives, know what you both are bringing to the table and how it works best for you both professionally and personally. You're doing something you're both passionate about, but it still requires a lot of work. Anything that involves multiple people requires establishing great communication and alignment.

How do family, friends, and co-workers react to your passion of digital marketing?
Ray: Patience and support.
Amy: Now there's nothing else to add!
Ray: Yep, patience and support. "I'll be home soon honey."
Things change every day in this digital world. How do you keep up with it?
Amy: Consume media on a daily basis on any channel and on any platform.
Ray: We are massive consumers of content and data on a daily basis. What we ingest, we only push out a very small percentage of. We are taking in a lot more than what most people would be, so we're probably more on top of things than most people are, but we are filtering it out for the rest of the marketplace.
What most excites you about industry today?
Amy: I think you can see from our events - it's the emergence of new technologies and budding entrepreneurs that are driving the industry forward. It's individuals like the ones we hear from in our Brand Series that have those new ideas and platforms that are going to go on to completely revolutionize the digital marketing landscape. For me, I'm most excited by looking out for those starters who are going to make the most impact.
What are your future goals for InsideDigital?
Ray: To take over the world.
Amy: ...starting in Canada.

Do you have any advice for those new to global brand marketing?
Ray: I think for those new to global brand marketing, they need to take the time to understand how the landscape is changing. Digital is quickly becoming the primary means of connecting with consumers - it's changing every day, but there's also still a place for traditional media, so you need to understand traditional and digital and what they are good for as well as finding a balance between the two in their brand strategies.

And to those who want to follow their passions?
Ray: Start it immediately. It's the thing you should be doing. If you're fortunate enough to follow your passion, do it.
---
Find out more about InsideDigital:
InsideDigital on the web - insidedigital.org
InsideDigital on Twitter - twitter.com/ID_org
InsideDigital on Facebook - https://www.facebook.com/InsideDigitalorg
InsideDigital's YouTube channel - youtube.com/channel/UCqroyENMPMjdKjE8sHTiU-A
InsideDigital on LinkedIn - linkedin.com/groups/InsideDigitalorg-4702568?home=&gid=4702568